Concentration span and physical skills become increasingly necessary when a child starts going to school. In this special age group, we will work on putting all our effort in to achieve a goal. By accomplishing each skill, children will become more confident and motivated. Through our program, we help our children build team understanding and cooperative skills. Our program also includes specific sports components such as American football, tennis and developing overall physical abilities.

Teamwork is used as the base of the program

Advanced team exercises.

Adapting to a variety of sports

Gaining physical and mental skills needed in different sports.
Request for Parents

At the class, they will learn the importance of working on team and know the pleasure of exercise. Let's watch over their growth.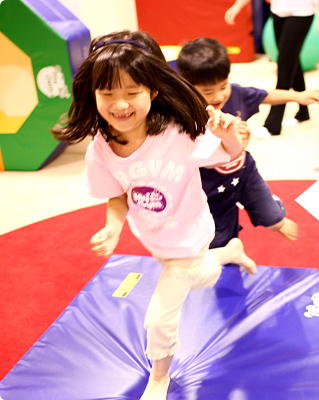 Exercise is important for sure, and working on a team is as well.

My son likes exercise and at his kindergarden, he started to play by himself. The players are unique, because they are really amusing and energetic. I love to watch them. Now he wants to take lessons twice a week. Actually, he could not stay still before, but he can stay calm and wait. We learned the importance of working on team and supporting others. Also we know the importance of children's fitness and working on something with friends.

REN IWASATO
TOP>Classes & Programs>Champions